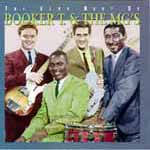 Booker T. & the MG's
Very Best of
Guitarist: Steve Cropper
"Just to take it a little farther south of Nashville to Memphis for one of the greasiest solos ever - Hip Hug Her by Steve Cropper. I love that chicken-pickin' get-down-Loretta Tele sound for sure, but what really wangs my doodle is that bacon drippin' Whoowie! rosewood board Tele sound on this song. Makes me want to buy a shoe box Chevy and go cruisin'!"
- Tom Q.
Further Listening: Basically the house band at Stax Records, they played on hundreds of recordings. Try a good Sam & Dave or Otis Redding collection first.
The Meters
Look-Ka Py Py
Guitarist: Leo Nocenticelli
"The quintessential intro to the Leo Nocenticelli/Tele Funk sound! Pure instrumental FUNK at its best."
- Adrian E.
Further Listening: For more recommendations, check out Adrian E.'s essay on Tele Funk.