Tele funk
by Adrian E.
All funk roads lead to James Brown. The grandaddy of funky scratch guitar is Jimmy Nolen, his original guitarist. Jimmy played Strats, plain and simple. He is also credited with another proto-funk pre-JB rhythm guitar tour-de-force--playing on Johnny Otis's Hand Jive. Just wanna cite what I consider to be the fountainhead...
Around the late '60s/early '70s the JB's (as the backing band was known) all split from the Godfather over cash disputes. He recruited some young cats from Cincinnati to be the new JB's. These dudes were led by a bass playing brother named Bootsy Collins and his brother--the Tele-toting Catfish Collins. What I consider to be the fountainhead of "Tele Funk" is the studio debut of this young new edition of the JB's--Sex Machine Any JB recording with Catfish Collins on it (70-75??) has his Tele in funky gear!
The Meters' late 60s recordings on the Josie label (as opposed to their mid-'70s Reprise efforts) feature my fave of all time, Leo Nocenticelli, on a Tele. Some time in the late 70s, he switched to exclusive Starcaster playing?!?! Many of their famous instrumentals like "Cissy Strut," "Tippi Toes," and "Yeah, You're Right" have that unmistakable Tele twang! These are all found on the newly rereleased collection Funkify Your Life.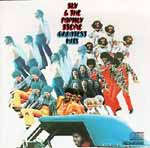 Sly and the Family Stone featured Sly's brother Freddie Stone on guitar, playing a Tele most of the time--especially in the latter stages of their career. Their notorious decline, fueled by drugs, sex, rock 'n' roll, etc., resulted in Freddie and most of the band not even showing up to recording sessions. "There's a Riot Goin' on," the groups swan song, features most of the tracks played by Sly himself. Veteran r&b artist Bobby Womack supplied a lot of Tele to that album. Listen to a Sly/Womack funky string duel on "Thank You (For Talking to Me Africa)" -- twang deluxe. How about Freddie on "Thank You (Falettinme Be Mice Elf Again)?" WOW...
Prior to "Purple Rain" years, Prince was a Hohner Tele copy player. On "Controversy," one can hear a very dry bridge pickup perculating through the whole tune JB-style (Catfish or Jimmy?).
Steve Cropper is such a big example of Tele Funk that I won't even get into his mammoth contributions. Why state the obvious?
Even King Sunny Ade, one of Africa's biggest stars, is a devout Tele player (he's baaaad, too). He even employs a pedal steel player in his group. Any CD is recommended highly. You can hear a lot of bridge-pickup fills in the MOST syncopated places!