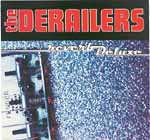 Derailers
Reverb Deluxe
Guitarist: Brian Hofeldt
"Sometimes it's hard to believe that after fifty plus years, a new band can come along with two Teles, a P-Bass, steel, and drums, and make real country music that sounds so fresh and cool. Someone needs to gather up all the covergirls making county music these days and lock them in a room with the Derailers for about a week (The Derailers probably wouldn't mind). This is what it's supposed to sound like, folks."
- Mark B.
Site of Interest: Here's when you know you've made it. Check out this Derailers Fender ad.
Diamond Rio
Diamond Rio
Guitarist: Jimmy Olander
"Perhaps the most recognizable guitarist in country music today, Olander pulls off his double bender (B&G) licks flawlessly, and seemingly without effort."
- Mike R.
Further Listening: Diamond Rio's second album, Close to the Edge, is also highly recommended by TDP members.
Brad Paisley
Who Needs Pictures
"I was at the Opry last night and heard Brad Paisley. I was standing back stage and I'll have to say that he's one fine Tele player. We talked for a while after his performance and you couldn't meet a nicer guy."
- Reggie Y.